Shutters are a stylish and versatile option, as they come in a range of colours and can be made to fit any size window or door. From vintage charm to contemporary minimalism, shutters bring an instant shot of laid back style into your home.

The Sandringham range is available in different wood types to suit a variety of needs and budgets, a choice of five shutter styles and 117 painted and stained finishes and colours. Or you can choose to have your shutters painted to match your colour scheme by opting for one of thousands of custom colours.
Shutters work well in all types of property from period to modern.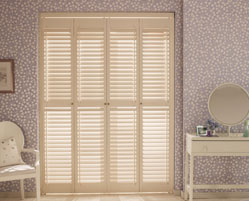 A flexible and popular style, these are single full height panels that cover the whole window. It's a simple yet elegant style that works on any window but gives a real wow factor and dramatic finish to patio doors or tall windows. Quite often full height shutters will have a divider rail. As well as giving support to the panels, it also allows you to operate the louvres above and below it independently so you can adjust the light according to your needs and create different looks.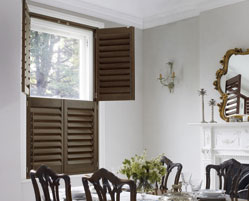 This is perhaps the most versatile option as you basically have two sets of shutters, one on top of the other, each operating independently of each other, so you can have the top open to make the most of a pretty view, and the bottom closed for privacy or of course vice versa. This type of shutter works particularly well in bedrooms where privacy is always going to be a priority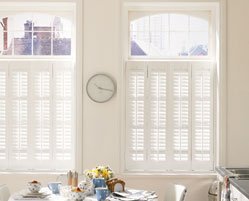 This is a stylish and cost effective solution as you're only putting shutters partway up the height of the windows. This creates privacy at the lower level and allows plenty of light to flood through the top of the window. This gives a lovely continental feel that looks great in kitchens and living areas.
Create a stunning room divider or cover large windows and doors with a folding tracked option. This works well when you want to pull the shutters back to enjoy a lovely view or get easy access through a patio door.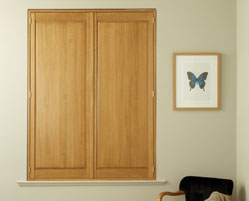 Traditional, solid wood panels that are suited to period properties with draughty windows as they give great insulation and privacy.